The First thing I want to say is, "You Don't Need To Stop!"
One of my patient's story is this. " I used to work full time operating machinery but then my shoulder was hurting so I retired. Then, when it started hurting while playing tennis I stopped playing. Now it hurts to do work on my Lawn. Do I have to stop?"
So often the medical solution for your pain is to stop doing the thing you love. It can be running, weightlifting, hiking, swimming, basketball, golf, table tennis, or even pushing a lawn mower. Exercise is good for you. Activity is good for you. One quick search on Google will give you hundreds of articles saying exercise is important to live a healthy life so why are you being told to stop?
A sports injury is anything that stops you from playing your sport. Our job as a physical therapists is to get you back to playing your sport and keep you active, so let us get you back!
How you'll get better?
Here, we use a combination of Functional Therapeutic Exercise, Dry Needling, Cupping, and Instrument Assisted Soft Tissue Mobilization to treat both the symptoms of your problem and the cause of your problem.
Let's say you fell on your knee and after limping for a few days it got better. 3 months later, it starts hurting again. Chances are by now your knee pain is not just knee pain. Your body adjusts with pain. That period you were limping you lost strength in your hip, your ankle and hip became stiff, your hip started tilting and your back adjusted as well.
With our therapy we are able to decrease your pain, adjust your posture, and train your muscle for a lifetime of relief.
Who's going to help you?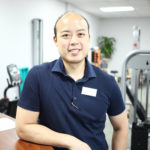 Dr. Michael Wang is a Certified Level 1 Crossfit Trainer and Crossfit Mobility Trainer who for the past 5 years trained Athletes in Functional Movement training, Olympic Weightlifting, Gymnastics and Powerlifting. Michael is Certified in Dry Needling, Instrument Assisted Soft Tissue Mobilization or IASTM (Cupping and Scraping) and Spinal Manipulation.
Fun Fact: his Snatch Personal Record is 225 lbs.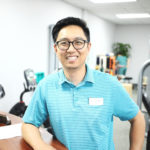 Dr. Michael Shin is a Certified TPI (Titleist Performance Institute) Medical Clinician specialized in Dry Needling. In fact, he was one of the first physical therapists in Georgia to do dry needling and was involved in the inclusion of Dry Needling in Georgia's Physical Therapy License.